Until one has loved an animal, a part of one's soul remains unawakened.

Anatole France

Peaceable Practices
Learn to see animals as individuals
Connect with animals
Adopt an animal-free diet
Rescue animals
Advocate for animals
Preserve, protect and restore animal habitats
Frequently asked questions
Other animals eat animals, why shouldn't we? Isn't it our natural place on the food chain?
If everyone stops eating meat, what would happen to all the animals? How about our economy?
Glossary terms
Animal advocacy
Animal husbandry
Animal protection
Animal rights
Animal welfare
Animal-using industries
Open rescue
Vegan
Featured
Global Tribal Cinema A free online viewing platform offering Tribe of Heart's two feature documentaries, Peaceable Kingdom: The Journey Home and The Witness, along with shorter mini documentaries and videos focused on personal transformation and awakening compassion for all beings. Commercial free, and multi-lingual....more
---
Maple Farm Sanctuary Cheri Ezell-Vandersluis and Jim Vandersluis once ran a dairy farm, before experiencing a dramatic shift in their perceptions of animals, as portrayed in the documentary "Peaceable Kingdom: The Journey Home." Now they have transformed their property into a sanctuary for animals rescued from abuse and neglect on farms, as well as a refuge for wildlife, hoping to inspire others to reconsider their relationship to our fellow beings and the planet....more
---
Learning from Animals Cognitive ethologist Marc Bekoff offers remarkable examples of how "animals have a sense of justice and display empathy, forgiveness, trust and reciprocity."...more
---
Peaceful Prairie Sanctuary A small organization with courage and vision that not only rescues and cares for animals in need, but also offers groundbreaking materials for education and outreach that reflect a deep understanding of animals and the injustices they endure....more
---
Lolita: A Slave to Entertainment
This award-winning documentary depicts the tragic and compelling life story of a killer whale named Lolita, from her capture in the Puget Sound off the coast of Washington to her 37 years of confinement in a Florida seaquarium. For those who have visited a marine park, for those who think they might do so in the future, and for those who simply wish to know the truth about performing marine mammals, this film is a "must see."...more
---
Stories
Maggie and Meribelle
Rick and Gertrude
Books and Other Resources
The Wild Parrots of Telegraph Hill
Video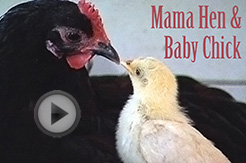 A delightful scene from Peaceable Kingdom - The Journey Home, Cheri of Maple Farm Sanctuary points out parental behaviors that most people never expect to find in chickens. It's sure to be a treat for animal lovers, and anyone interested in animal behavior.
Organizations
Animal Liberation Victoria
Poplar Spring Animal Sanctuary
Foster Parrots
Copyright © 2016 Tribe of Heart Ltd.