GET INVOLVED
Never forget that one person's change of heart can change the world. Your participation is what makes all the difference!
"Start by doing what's necessary;
then do what's possible;
and suddenly you are doing
the impossible."

— St. Francis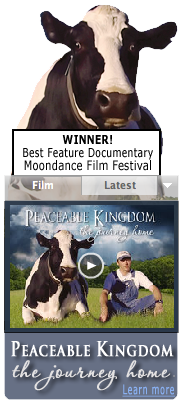 TribeWidgets like this one enable you to publicize upcoming screenings of Peaceable Kingdom: The Journey Home on your social networking page(s). Choose from several widget options here. Widgets will automatically update with the lastest news and events. It's never been easier to help us get the word out!