Global Tribal Cinema Now in Chinese!
Expanding the reach of Tribe of Heart's life-changing films into a language spoken by one billion
Last year, Tribe of Heart received a generous contribution to help develop new in-house software technology which would allow us to publish our work in pictographic languages like Chinese; in languages using non-Roman characters such as Hindi and Russian; and in right-to-left languages such as Arabic, Hebrew and Farsi. This extra support was crucial in allowing us to complete translations and web resources in five new major languages, which will greatly expand the reach of our films and supporting programs.
Tribe of Heart's first completed projects using this new technology are the Simplified Chinese and Traditional Chinese versions of our Global Tribal Cinema, launching today. These new web sites include both of our award-winning films, all of our supplementary videos, and the entire written content of our web pages. All these resources are meticulously translated into the Simplified form (primarily used in China and Singapore by nearly one-seventh of the world's population), and Traditional form (used in Taiwan and Hong Kong).
Because video files hosted outside China are often hard to access from within China, we have made special arrangements for our site's Simplified Chinese video files to be streamed through a hosting firm located in China. This ensures that any Chinese speaker with internet access, anywhere in the world, can now freely view and share our films and educational materials. Note: this is a new technology for us, so any feedback on how it is working for viewers both inside and outside China, would be very helpful (
email us
) .
This new language release is a significant milestone for Tribe of Heart, representing the single largest expansion of access to our work in the organization's 18-year history. It is also a triumph of grassroots community. Over the course of years, the talents and contributions of many people came together to build a unique linguistic and cultural bridge that is going to open hearts and minds as never before.
We encourage you to share these new resources with your Chinese-speaking friends and family, and also with organizations doing animal advocacy and non-violence work in China, Singapore, Taiwan, Hong Kong, and other parts of the world where Chinese is spoken. Let's make the most of this special opportunity to build collaborative relationships and plant the seeds of change in a vast number of communities!

With languages as different as English and Chinese, translating artistic and philosophical material is a fascinating exercise in analysis and intuition, and really hard to pull off! For example, each pictogram in Chinese has a complete and complex meaning which may be affected by the meaning of the pictograms that precede or follow it. So in some cases, a Chinese pictogram might be equivalent to a single word in English, but other times, it contains the meaning of an entire English phrase. This means that a whole paragraph in English might be expressed in as little as half a dozen Chinese pictograms. It also means that correctly translating the true essence and tone of material between English and Chinese is uniquely challenging, requiring a rare level of fluency in both languages AND a deep understanding of the material being translated.
And how does one find a person with such specific talents and experience? Well, sometimes the answer is that they find you!
Last year, Tribe of Heart received an email from Zhiyun Luo, who was just finishing up a philosophy degree at Northwestern University. Zhiyun had recently viewed Peaceable Kingdom: The Journey Home in English through our Global Tribal Cinema web site, and wanted to help get the film translated into Chinese so he could show it to his friends and family back home in China. Remarkably, his email appeared just as an initial translation of the GTC into Chinese had been completed and we were beginning to search for someone well versed in the issues of animal advocacy and nonviolence to help us refine it. As we learned more about how Zhiyuan had discovered our work, we realized our paths were brought together in a truly special way.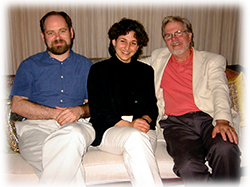 Filmmakers James LaVeck & Jenny Stein
with Dr. Tom Regan (2002)
Earlier in 2017, renowned scholar and activist Dr. Tom Regan had passed away. From the time we first heard him speak at a conference in 1997, Tom's humanistic and principled approach to justice work deeply inspired us, as did his visionary role in advancing the philosophy of animal rights. In our early years of activism, we felt his approach spoke to our interest in utilizing the power of film to spark moral awakening. Tom, along with his wife and partner, Nancy, supported our filmmaking long before it gained public recognition. Their early encouragement and a couple of grants from their Culture and Animals Foundation meant the world to us, and helped launch us on our journey as social justice filmmakers. Receiving CAF's "Outstanding National Activist Award" in 2001 was an incredible honor and a boost to our morale during a period when we were just getting established.
Tom was a teacher to his very core, taking genuine joy in the accomplishments of young people and those new to the cause. His largeness of spirit set the standard that we still strive for in our own work. Indeed, it is fair to say that Tom's ideas, and his example, comprise one of the primary strands of Tribe of Heart's philosophical DNA.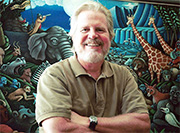 Dr. Tom Regan
(Photo by Matt Huffman)
Tom also made many bridges to animal advocates working in other countries, as the oppression of our fellow animals and the need to protect their rights is universal across cultures. And that is why this announcement is the ideal moment for us at Tribe of Heart to celebrate Tom Regan -- a justice visionary, innovative activist, international role model, generous mentor and friend. Fittingly, it was Tom's work, months after his death, that led Zhiyuan to discover our films and reach out to us.
Many months ago, it turns out, Zhiyuan had come upon one of Tom Regan's lectures on Youtube. He'd been so affected by Tom's dignified and respectful message about the rights of our fellow animals, that he decided to become a vegan, and also to create a Chinese subtitled version of the talk. After Tom's passing, Zhiyuan wrote an article about him and his work that was published in China. Through further exploration of Tom's work, Zhiyuan learned about Tribe of Heart and found his way to our Global Tribal Cinema web site, where he first viewed Peaceable Kingdom: The Journey Home.
As all of this revealed itself through our exchange of emails with Zhiyuan, we could not get over how someone fluent in Chinese and English, formally educated in philosophy, and deeply influenced by Tom Regan's work, had contacted us at the perfect point in a years-long Chinese language project. As we began collaborating on refining the translation work, we discovered that Zhiyuan had a wonderful grasp of the nuanced message we've tried to communicate through our films and educational materials, and a true gift for translation. His changes to our initial draft made the message more accessible and the meaning more accurate.
In working with Zhiyuan, our sadness over Tom Regan's passing was transformed into a tribute to his legacy. We feel certain that Zhiyuan, and the translation project he helped take to new levels of excellence, would have truly delighted Tom.
As we neared completion of our work together, Zhiyuan graduated from Northwestern and returned to China. This gave him the opportunity to show the newly translated
Peaceable Kingdom
to his mother. She was so touched by the depictions of the animals' emotions in the film, and by Joy Askew's song "Poor Man's Greed," that she decided to join Zhiyuan in becoming vegan. Our cross-cultural collaboration was off to a promising start!
As we now embark on sharing Peaceable Kingdom and all our other offerings in China, and with Chinese-speakers in other parts of the world, we feel humble gratitude for our new friendship formed across the barriers of distance, culture and language. It's been inspiring to see how the principles that first motivated us to get involved in this work many years ago, have been transmitted into a new language by a young person who, like us, like Tom Regan, saw the value in integrating intellect and emotion, in creating a finely tuned expression that rang true on the intuitive level while satisfying a high standard of rational coherence.
Zhiyuan recently completed the Bar exam in China and is now pursuing an advanced degree at the London School of Economics. We look forward to working with him in the future and seeing how his journey as an activist and bridge-builder continues to unfold.
We want to offer special thanks to Eva Ma and her sister, the late Jenny Ma, whose support and encouragement over several years sustained our vision of bringing our work to Chinese-speaking audiences. Sadly, we lost Jenny last year to illness. We have included her name in memoriam on each page of the Chinese web site, as we know this milestone would mean so much to her.
We also want to thank Paul Henderick and his translation team, who many years ago worked very hard on our initial efforts to create a Chinese-language version of The Witness, and who later encouraged us to take on the challenge of translating Peaceable Kingdom into Chinese. The launch of the Chinese language version of Global Tribal Cinema is very much the fruition of a seed planted by Paul.
Part 2: Tribe of Heart films translated into Traditional Chinese are now reaching viewers in Taiwan
Copyright © 2018 Tribe of Heart Ltd.