Reaching People Across the World with Tribe of Heart's Global Tribal Cinema
by Sarina Farb - Tribe of Heart Intern and International Liaison 2016-17

When I entered college, I was certain that I was headed for a career in research science, but with each passing year, justice work for animals became a much bigger piece of my life. I tried a variety of approaches to reach my peers with a message of compassion and justice for all beings, yet it often seemed that few people could actually hear the heart of my message. However, I remained undeterred, and decided to try documentary showings.

Peaceable Kingdom: The Journey Home had been a favorite of mine since it first came out on DVD in 2012, and several years later I watched The Witness, after it was made available online for free. Having been raised vegan in a family focused on activism, nothing in The Witness, nor the reality of our society's mistreatment of animals, was new information to me. Even so, the story of transformation told by the film and especially Eddie's description of what it was like to be abandoned after being brutally assaulted in the street, helplessly screaming in a vacuum, moved me to tears. I knew that this was the film I wanted all my friends and peers to see.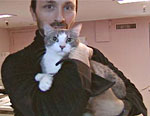 I was extremely disappointed when only a few people showed up to the screening I organized, but these feelings changed dramatically by the time the end credits were rolling across the screen. There was a deep collective energy among us, and I could see by soulful expressions on my peers' faces that the gravity of the issue was really sinking in. Several people stayed long after the film was over to continue discussing its message, and specifically what we could do collectively on our own campus to speak up for animals. Seeing how this 45-minute experience could awaken so much compassion and inspiration for change was incredible, and very motivating.

My view of how to best help society progress was transformed by experiences I had in college, both positive and negative, which ranged from the empowering film screenings, to seeing first-hand the omnipresent use of animals and animal products in laboratory research, to my science professors' promotion of genetic engineering as an ideal tool to solve world hunger. It was frustrating to see how so many sectors of society operate in a reductionist and exploitative way, and I longed to be a part of bringing a more compassionate and holistic mentality to our world. I began to seek a path that would put my skills and talents to use creating a paradigm shift in the way our society thinks about everything from social injustice and exploitation, to our food and health care systems.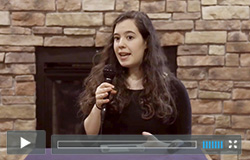 In the midst of my struggle to take concrete steps toward this new goal, I was thrilled when the opportunity arose to work with Tribe of Heart on creating the Global Tribal Cinema (GTC). After immersing myself for a few months in learning many new technical skills and coordinating translation work in several languages, I had my first chance to speak about the project at a public event. [Watch a 3-minute video of Sarina's talk here]

After all the time I spent in college agonizing over how to get even a handful of people to show up to my screenings or watch the films one-on-one with me, it has been so rewarding to collaborate with fellow activists around the world who are holding screenings or helping us translate our films and information about the path of holistic nonviolence. I have learned from individuals across many cultures that there are people everywhere who want to be part of a newly emerging ethic of care, compassion and respect for other human beings and the members of all species.


Recently I had the pleasure of sharing a long conversation via Skype with Quentin Folliason. Before April, when he first contacted us about holding a screening, I had never even heard of his home of New Caledonia, a small French territory off the coast of Australia with a population of about 250 thousand. New Caledonia is extremely diverse for such a small place, with individuals from many different backgrounds, including those of indigenous and European descent.

Having helped found New Caledonia's first ever vegan organization, Vege NC, a little over a year ago, Quentin stumbled across a post online that shared a link to the newly released French language Peaceable Kingdom page of the GTC. He was so inspired by the way the message was presented and how the film told the story of individual farmers, that he immediately decided to hold a screening.

Although Vege NC had previously held small screenings of other films in people's homes, this was to be their first sizable public event. Unsure what to expect, they reserved a large space and publicized the event widely, and were thrilled by a huge turnout that packed their venue!
When I followed up with Quentin after the screening, I was so happy to find out that his experiences validated many of our hopes for what creating the Global Tribal Cinema might make possible. [Watch a 3-minute video of Sarina's Skype interview with Quentin here]

By doing the work necessary to make Tribe of Heart's films available online for free and in many languages, one individual halfway around the world was able to discover a new tool for transformation and then share it with 70 people in his community! And not only did Quentin and his fellow activists get an enthusiastic turnout, but the comments and reactions from the audience afterwards show that the experience had a positive impact for many of the attendees. Here is a sampling of their comments (translated from French by Quentin):

Thank you for spreading this. I accidently saw your poster this evening at 5h55... I started thinking about becoming Vegan (already vegetarian), I will maybe make it quicker than I thought after this evening.

Very beautiful movie, well made. The images are moving and surely reveal the emotions of the animals. It was interesting to have the farmers feelings. I am, in a way, reassured to know that this kind of person exists, that attitudes are changing. Thank you.

Thank you so much for your movie. It opened up my eyes on the dairy and egg business.
Quentin later told me that the story of the individual farmers such as Harold, in particular, were especially moving for many audience members in New Caledonia, since cattle ranching and small scale farming is extremely prevalent and visible in the countryside, with grazing cows dotting the landscape, and runoff and pollution visibly affecting ocean health around the island.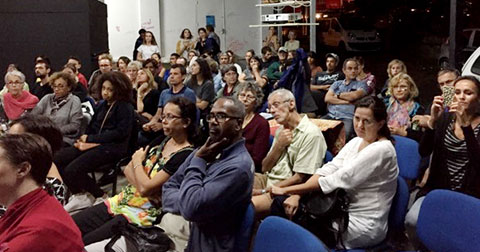 Quentin also appreciated that the film was online for free and beautifully translated into French, as he has found that high quality French-language materials for vegan and animal activism are quite limited compared to what is available in English. I can only imagine that this is likely the case for many other activists in a variety of non-English speaking countries around the world, and it furthered my motivation as I completed my internship at Tribe of Heart by working on the second set of languages for the GTC, soon to be released.

I am ever so grateful to have been able to share this work for change with other passionate individuals and to see how our collaborative efforts are helping to spread a life-changing message of compassion around the globe.
Copyright © 2018 Tribe of Heart Ltd.