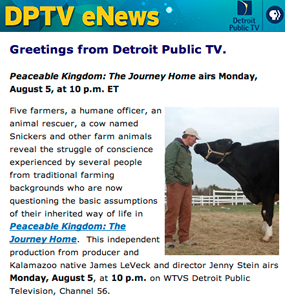 Watch the Trailer

About the Film
Open your eyes. Trust your heart. Take the Journey...
In this award-winning film that audiences are calling "a life-changing experience," animal farmers struggle with their conscience and share powerful stories of transformation and healing. Their testimony, combined with rare footage demonstrating the emotional lives of animals, create an unexpected and unforgettable portrait of farm life.
The Michigan Connection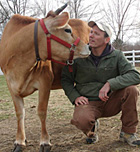 A fifth-generation farmer from Jackson, Michigan, Harold Brown spent half his life working in animal agriculture. In Peaceable Kingdom: The Journey Home, he shares the touching story of how he broke away from the traditions of his upbringing to forge a new way in the world, based on his desire to live in harmony with his most deeply held values. Today, through his non-profit organization, FarmKind, Harold educates the public on such topics as global agricultural domination, veganic farming, and the pursuit of a non-violent, peaceful way of life. He also offers practical advice and moral support to animal farmers who wish to make the transition to plant-based agriculture.
---

Born in Kalamazoo and raised in Harrietta, Michigan, Peaceable Kingdom: The Journey Home producer James LaVeck pursued a degree in cross-cultural studies at Cornell University, spent six months traveling across India, earned a black belt in Tae Kwon Do, counseled inmates in the county jail, tutored pregnant teens, and wrote a novel about the generational impact of family violence. While he didn't realize it at the time, he was getting the education he needed to produce documentary films on the subjects of conscience and compassion.
With his partner, Jenny Stein, James founded Tribe of Heart in 2000 and since then has produced documentaries that have appeared in 80 festivals around the world, where they have won 18 awards, including 5 for Best of Festival and 12 for Best Documentary. His work has appeared on PBS, LinkTV, FreeSpeech TV, and the United Kingdom's Community Channel. In addition to his filmmaking, James lectures and publishes on the subjects of living a conscience-driven life and the essential role of grassroots activism and independent media in maintaining a healthy democracy.
---
In 2004, Kevin Smith of Royal Oak, Michigan, happened upon a television broadcast of Tribe of Heart's first film, The Witness. With decades of experience in the field of advertising, Kevin reached out to filmmakers Jenny Stein and James LaVeck to offer his support. As Associate Producer on Peaceable Kingdom: The Journey Home, Kevin's input was critical to the structuring of several complex, interwoven storylines. His extensive project development experience and creative problem-solving skills elevated the professionalism of several aspects of the project. He and his wife, Ramona, also donated the artistic talents of their post-production team at Section 8, creating beautiful title sequences for the film.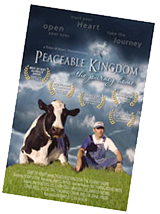 Since the DVD of Peaceable Kingdom: The Journey Home was released in July 2012, Kevin has overseen our North American screenings program. To date, he has helped support more than 100 screenings ranging from venues as small as 25 to theatrical premieres reaching audiences of several hundred. Earlier in 2013, he assisted Ann Arbor's Humane Society of Huron Valley with holding a screening (details below), and that collaboration led to a meeting with WTVS programming staff, which resulted in the upcoming broadcast on Detroit's Public Television (PBS).
Dear friends,
We are thrilled to announce the broadcast premiere of Peaceable Kingdom: The Journey Home! It will air Monday, August 5th, 2013, at 10 PM EDT on Detroit's PBS station, WTVS, which is not only available to a large audience in the US, but also to millions of viewers across Canada via broadcast, cable and direct satellite.
Thanks to the collaboration and leadership of the film's associate producer, Kevin Smith, and that of Tanya Hilgendorf, Karen Patterson and Deb Kern of the Humane Society of Huron Valley (HSHV), the film was brought to the attention of Dan Alpert and Dan Gaitens of Detroit Public Television (DPTV), which has a history of working with HSHV on humane education initiatives. One successful example of their educational collaboration is the airing of the groundbreaking PSA campaign, "Be Humane -- animals have feelings too," that teaches compassion and respect for companion animals.
Now, with their decision to launch the broadcast premiere of Peaceable Kingdom: The Journey Home, the WTVS team has again chosen to take a leadership role in advancing our society's dialogue on the ethics of the human-animal relationship. For several of us involved in the making of the film, this broadcast premiere brings us full circle. I am a native of Michigan, as is film subject and former farmer Harold Brown. Kevin Smith resides in Royal Oak, a suburb of Detroit.
At a time when the people of the region are struggling with serious economic hardship, this broadcast event, which has been made possible through the combined efforts of several Michiganders (yes, that's what we are called!), serves as a potent reminder of the community spirit, moral courage, and compassion that can inspire us to overcome any obstacle. We are honored to present our work to PBS viewers in Southeastern Michigan and across Canada, and to do so in collaboration with programmers and educators who have contributed to the common good for so many years, and in so many ways.
Finally, a special note of gratitude goes to Kelli Marshall of S.M.A.R.T., who first brought Peaceable Kingdom: The Journey Home to the attention of Karen Patterson, HSHV's Director of Humane Education. That led to HSHV working with Kevin Smith to hold a screening of the film at the Ann Arbor-based humane society, which in turn inspired all involved to approach WTVS. So many of the best opportunities for our films begin like this, with one person sharing the film in a personal way, leading to a chain of events that could not have been anticipated. Like pebbles thrown into a pond, we can never know how far the ripples of our actions will spread. Thank you, Kelli, for starting this wave of positive change, and thanks to all of you out there who likewise find ways to share a compassionate message and keep it moving. Working together, we can -- and will -- change the world!
James LaVeck
Producer
---
In February of 2013, Karen Patterson, the Director of Humane Education at Ann Arbor's Humane Society of Huron Valley (HSHV), contacted Tribe of Heart about screening Peaceable Kingdom: The Journey Home at the shelter. The film's associate producer, Kevin Smith, helped organize and participated in the event, and also arranged a Skype Q&A to follow the screening, so that filmmakers Jenny Stein and James LaVeck could interact with the many audience members who were moved and had questions.
HSHV's President and CEO Tanya Hilgendorf was deeply affected by her experience at the screening and shared Karen and Kevin's feeling that the film deserved a much wider Michigan audience. So together they decided to reach out to WTVS, Detroit's PBS station, with which HSHV was already collaborating on a humane education campaign to nurture compassion and respect for companion animals. Tanya contacted Dan Alpert, WTVS's Senior Vice President, and Dan Gaitens, WTVS's Program Director, telling them that she found the film "powerful, touching, challenging and visually splendid" and that she was "obsessed for days after watching, wondering how we can get others to see this film." The WTVS team welcomed the possibility, and agreed to evaluate the film for broadcast.
Flash forward six months: On Monday, August 5th, 2013, WTVS will be airing the broadcast premiere of Peaceable Kingdom: The Journey Home. We're grateful for HSHV's holistic vision, which embraces all animals, including those on farms, in their humane education message.