Dear Friends,
This newsletter tells the story of three remarkable premieres on three different continents. Though separated by thousands of miles, these events were united in purpose and spirit, each beautifully carried out by a team of dedicated volunteers whose efforts opened hearts and minds, and changed the course of many lives.
Watch the video above about the Australian Premiere organized by Animal Liberation Victoria, and read the written comments below from audience members. See if you are not as inspired as we are by the story they tell of a movement for justice that is finding a new identity, and a new voice. Read the stories and audience comments from the Baltimore and Brazilian premieres, and see if you are not as moved as we are by the moral courage and compassion that live inside so many of us.
Peaceable Kingdom: The Journey Home is a film that was created, and is now being globally shared, by the power of grassroots community. No one person made the film possible, and the same is true for these remarkable screening events. Planning. Organizing. Publicizing. Preparing food. Donating funds. Hosting. Speaking. Documenting. These tasks were shared by many individuals, each contributing their best.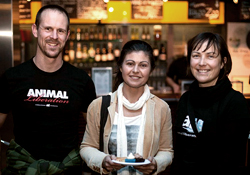 Volunteers with Animal Liberation Victoria
Photo by Noah Hannibal
And then there were the audience members, who gave the most important gift of all, their openness to new experiences and ideas.
A lack of community -- with each other, with the animals with whom we share the world, and with all of nature -- now imperils our collective future. So whenever we can come together and create new connections based on compassion, respect, and the love of justice, we are taking the first steps toward restoring what has been lost and protecting those who are most vulnerable.
In the months ahead, we will be announcing exciting new initiatives to bring the transformative experience offered by these premiere events to a much larger number of people in cultures around the world. Our goal is to make the message of our films understandable, and accessible, to the majority of people on our planet.
With your help, our small organization can realize this global vision. Holding events. Donating funds. Volunteering professional skills. Translating. Carrying out online outreach. Spreading the word. Supporting those in the process of changing their lives. There are tremendous opportunities ahead! A number of them are explored in depth on our Peaceable Journey web site.
Throughout history, every successful social justice movement gained its footing from the efforts of a small number of people who saw that a better future was possible, made a commitment, and took action within their communities. There is no reason we cannot be those people. In the words of Philip Wollen, who gave a stirring speech at the Australian premiere, "If not us, who? If not now, when?"
Warm wishes,
Jenny Stein & James LaVeck
---
Australian Premiere
Audience Written Comments
(see videotaped comments here)
From someone who hasn't thought much about the issues presented, your movie is proactive and moving. More strength to you! Well done. I will now ponder my next steps and see how I can change my life and those around me.
I was so moved by the footage of the human-animal connection. I had never seen footage like this.
Thank you for bringing this movie to Australia. Up until the last few weeks I called myself an animal lover but my main diet is meat. Seeing Peaceable Kingdom and seeing the animals' fear and mistreatment opened my eyes -- something needs to change -- I need to change the way I think and eat. This documentary is so well made.
Amazingly inspiring and emotional movie. It moved me to tears many times. This movie has inspired me to make the change from vegetarianism to veganism.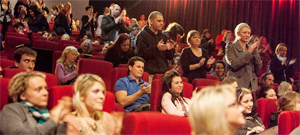 Photo by Noah Hannibal
This film has shifted something inside of me. I have been a vegetarian for 3 years now and have never felt ok about consuming other animal products (milk, eggs, wearing leather). This movie is what I needed to encourage me to become vegan. I can't walk through this world blindly anymore. Thank you for this film. Thank you for giving these animals voices. Thank you for giving me the courage to make change. Thank you from the bottom of my heart.
Amazing. Triumphant. Heartbreaking. Confronting. Beautiful.
Thank you, broke my heart but you have let me think about things that I have not wanted to face before. Nothing is what I thought, but I want to be better. I want to become someone you could be proud of.
This film left me speechless.
Thought it was fascinating and beautifully made and I can tell you there are not many dry eyes in the theatre, including myself. I was very moved with the bonding of human and all creatures. Thank you very much for this insight. Insight of change!
I was blown away, I will be thinking about this movie for a long time. Thank you for making such a moving and respectful film.
Beautiful. Very moving and inspirational. I want to view it again, soon. The work you are doing is extraordinary -- it is so needed and will change the course of so many lives.
This is such a powerful story of 'reality'. I am not ashamed to say this made me cry. This needs Big TV, Video and cinema showing.
To see and hear Harold Brown connect with his heart and be strong enough to weep as he shared his story was as wonderful as the story of the animals.
Resonated to the core of my soul.
Thank you for the sharing of a much better, compassionate way for animals. People have such enormous property for good when they truly learn to listen to their heart.
You have opened my eyes and my heart more than I thought they could be opened. Thank you for pushing our universe further towards the tipping point that it so needs to reach.
It makes you sad and it makes you soar...
Thank you for producing this astounding film -- you've given a voice to the animals that we cannot shut our ears to.
This documentary opened my eyes, I have always known what goes on with the mass production of livestock, however I've tried not to think about it. I believe everyone needs to see this!
Great to see a film showing both sides, especially linking loving and kindness in parallel with such violence and cruelty.
An inspiring, beautiful, heartfelt and devastating film. Portraying the cruel animal industry and showing how people can change, giving me hope for the world I so often doubt. Thank you.
Heartwarming stories presented beautifully. All the way through I was thinking of ways to share this movie with family and friends.

Audience members enjoyed delicious vegan treats
following the film screening (photo by Noah Hannibal)
Many thanks to Patty Mark and the entire Animal Liberation Victoria team for the enormous effort, heart, and soul they put into organizing the Australian Premiere of Peaceable Kingdom: The Journey Home! We particularly want to acknowledge Lefki Pavlidis, Noah Hannibal, Skye Browne, Felicity Andersen, Jo Osborne, Taylor Foster, Doug Leith, Judy Kasputtis, Penny Cameron, Tamara Arandt, and Sally Brien.
---


FREE shipping on all DVD orders
worldwide through Dec. 31

---
Individual DVDs
$20 each

Peaceable Kingdom: The Journey Home
FREE First Class shipping worldwide!
Watch the trailer
DVD includes 78-minute film plus 90 minutes of bonus material. All content is available with subtitles in English (SDH), Spanish, French, and Portuguese.
---
Special Offer Both Tribe of Heart DVDs for $25

Peaceable Kingdom: The Journey Home and The Witness
FREE First Class shipping worldwide!
---
10-pack of DVDs

$100 (half price)

For gift giving and sharing the film with people and groups in your community
FREE Priority Mail shipping to the US, and FREE First Class International shipping to all other countries.
---
You can help us publicize this update by using the share button at the top of this page.

You can also help by "Liking" our new Facebook page for Peaceable Kingdom: The Journey Home, and sharing with your friends.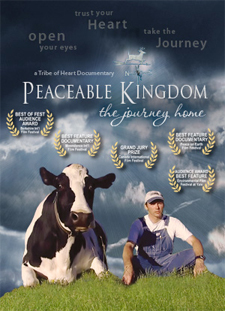 Brazilian Premiere
Peaceable Kingdom: The Journey Home wins an "Oscow"
Most filmmakers dream of winning an Oscar, but only two films each year are honored with an Oscow. Last month, we were thrilled to learn that the audience at Brazil's Mostra Animal international film festival chose Peaceable Kingdom: The Journey Home to receive this special award.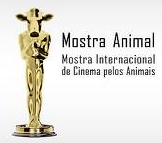 "We believe it was well chosen," said Louise Tezza, one of the festival organizers. "The tears and the testimonies of the public that followed the movie show that this is a powerful, inspiring film about how people can change, and that we can always choose the compassion path, no matter where we stand."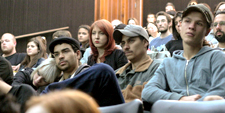 Louise was kind enough to send us many photos from the event. The one below, and the story behind it, was our favorite.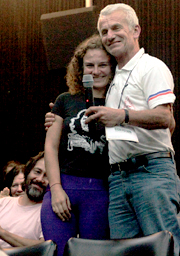 "After the display of Peaceable Kingdom and after the Oscows were given," wrote Louise, "this man rose up and said that 'For two years, my daughter was trying to convince me to be a vegetarian. Now, in only a few hours, I'm no longer a carnivore.' It meant the world to us, and all the public cheered as well."
We believe the Brazilian audience was so deeply touched due, in part, to the beautifully done Portuguese subtitles, which were supervised by one of Brazil's most dedicated animal activists, Simone de Lima. Simone ensured that the philosophical elements of the film were translated not only with artful precision, but also with cultural sensitivity.
Many thanks to Ricardo Laurino and Louise Tezza of Mostra Animal for giving our film this wonderful opportunity to be premiered in Brazil. Special thanks to Tatiana Signorelli Heise and Daniel Heise for helping find a way for us to rush a review copy to Brazil before the festival's submission deadline.
---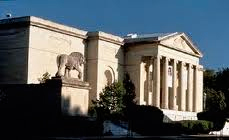 Baltimore Premiere
The Event That Almost Wasn't
Community educator Jamie Cohen began organizing the Baltimore Premiere of Peaceable Kingdom: The Journey Home back in August. Unfortunately, just three days before the November 1st event, Hurricane Sandy hit the East Coast and Jamie was left without electricity. She would remain in the dark and without heat, and uncertain whether the Baltimore Museum of Art would even be open for the event, right up until the day before the premiere. Fortunately, the museum was able to open and the show would go on.
On the day of the event, we set out with Harold Brown for Baltimore. However, we hit another obstacle when our normally trusty Volvo broke down in rural Pennsylvania.
Despite Harold's impressive mechanic skills, the vehicle needed a part that would leave us stranded for 24 hours. Fortunately, the repair shop had the only rental vehicle in town -- an old van with almost 200,000 miles on the odometer. It got us to Baltimore with just 20 minutes to spare!
After reading the audience comment cards from this emotion-filled event (excerpts of which you can see here), Jamie remarked, "The almost instant results you see after a screening are like nothing I have seen in nearly two decades of activism. I honestly thought I might feel relieved to have the big screening over with but instead, it inspired me to just keep it going. The comment cards were a huge part of that... I feel I did something that had an immediate impact!"
During the post-film discussion, Jamie had encouraged audience members to consider holding smaller screenings of their own -- at their local churches, libraries or community centers -- and she later followed up with those who expressed interest. As a result, several additional screenings are now in the works, including one that will be held by the Baltimore Ethics Society in January.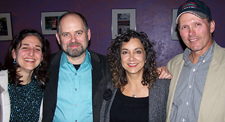 Jamie Cohen (center) with filmmakers Jenny Stein & James LaVeck, and film subject Harold Brown
Many thanks to Jamie Cohen and her talented team of volunteers -- Madeline Davis, Meg Graney, Erin Marcus, and Dar Veverka -- who handled every detail with loving care, and whose efforts touched many lives. We are also extremely grateful to VegFund and the following individuals who generously donated toward the theater rental so this event could be offered for free: Kevin Smith, Richard Peppin, Jamie Cohen, Dave Cohen, Madeline Davis, Meg Graney, Mark Rifkin, Louis Eagle Warrior, Darrell Watt & Danielle Stanley. And our deep appreciation goes to our associate producer Kevin Smith, who worked with Jamie on this event, and who has helped facilitate dozens of community screenings across North America.
---
Action Opportunity
Hold a Screening
Since the release of Peaceable Kingdom: The Journey Home on DVD last July, many people who saw the film have been inspired to share it in their communities. We were thrilled to connect with activists from Chapel Hill to Long Beach, from Wichita to Houston, from Colorado Springs to Tampa, from Stockholm to Toronto -- all of whom poured themselves into creating an event that would touch hearts and minds, and inspire positive change.
On our Peaceable Journey web site, we have extensive resources to help you organize and plan your event, including step-by-step guides.
Don't forget that advance registration is required for screenings held in venues that seat 40 or more. Learn more about our screening guidelines here.
Also, VegFund has generously offered to accept applications from people screening our films who need help with the cost of a venue or vegan refreshments.

---
Action Opportunity
Help us open more hearts and minds!
Tribe of Heart is a small organization that achieves a global impact through the ability of our films to touch people of all cultures and backgrounds. Our work for justice transforms lives through the power of grassroots community, idealism, artistic inspiration and altruism. We have never before been in a better position to positively impact so many lives, and now have an urgent need for funding. Please consider making a gift in support of our work, and help us bring the kind of transformation that took place at these premieres to a vastly larger number of people worldwide. Working together, we can and will change the world!
Donations are fully tax-deductible in the U.S. and can be made online or mailed to:
Tribe of Heart, POB 149, Ithaca, NY 14851
Thank you for your support!