Dear friends,

In the spirit of giving thanks, today we would like to share with you LOVE over FEAR, a 26-minute documentary that tells the behind-the-scenes story of the making of Peaceable Kingdom: The Journey Home. It is our tribute to the dedicated group of artists, film subjects, educators, activists, translators and supporters who joined with us in creating this project -- the latest endeavor in our ongoing quest for truth and justice on behalf of the vulnerable animals of this world. LOVE over FEAR also provides an in-depth look at the musical artistry that helps bring the film to life, highlighting the work of gifted composers Joy Askew and Kevin Bartlett.

For more than a decade, the Tribe of Heart team focused on creating a film capable of touching viewers of all ages and backgrounds; a film that would not only awaken compassion for our fellow animals, but also inspire a commitment to justice; a film with a message so clear and uplifting that it could be understood and embraced by people from every culture around the world; a film that could empower any motivated individual in any community to become an agent of peaceful, positive change.

In short, our goal was to combine in one project an artistic, educational, and transformational breakthrough.

This ambitious vision often seemed unattainable. Like many working for justice in these challenging times, we often found our skills and inner resources overwhelmed by the sheer complexity of the problems we were trying to address. We battled discouragement and disillusionment, and struggled to raise the funds needed to get to the finish line. LOVE over FEAR shows how seemingly insurmountable obstacles can be overcome through the power of grassroots community.

Since the release of Peaceable Kingdom: The Journey Home on DVD last July, we have witnessed how profoundly the film has opened the hearts and minds of audience after audience, transcending boundaries of age, politics, and culture. Individuals who have organized screenings in their communities have been amazed and inspired by the positive response. The film's impact is evident in post-viewing discussions and written comments from audience members. Its transformational power seems to come from the vision and altruism of the many individuals who have given, and continue to give their best to the project -- and from the beauty of the people and animals whose stories it tells. By working together, our community has opened the door to a level of change far beyond what any one of us could hope to achieve on our own.

In the coming weeks, we will be sharing exciting news about our plans to more fully realize the potential of Peaceable Kingdom: The Journey Home on a global scale. Now that the film's consistent ability to change lives has been confirmed, the next challenge is to make it available to an exponentially larger audience. But to reach enough people to facilitate change at the societal level and across cultures, we must again overcome seemingly insurmountable obstacles. Great challenges await. But you -- our friends, collaborators and supporters -- have taught us that love is indeed greater than fear. We know that with your help, anything is possible!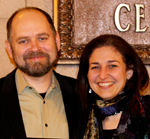 We invite you to join us on the next phase of this amazing journey that has already touched so many lives. Stay tuned for more details!

Warm wishes,
James LaVeck and Jenny Stein
Co-Founders, Tribe of Heart
---
Audience Comments from Baltimore Premiere - Nov. 1
VERY powerful and moving! Says a lot about compassion, what kind of people we want to be. Brings to light a lot of thoughts and feelings I have harbored for a long time and have also somewhat suppressed as far as acknowledging and recognizing a huge wrong in our society, and making appropriate changes in lifestyle and attitude toward ALL living things.
What I loved about your film was the heart that you showed in the story. You didn't just throw shocking footage at us in the hopes of "scaring us straight." You brought in human emotion by showing the struggle and conflict that these farmers went through, and the stories that caused them to change. As a person who has been working with animals my whole adult life and is currently searching for my own courage to make a life change, I found your film very inspirational.
I really enjoyed the movie... Currently, I am a meat eater and this film really makes me think about that choice. I have often wondered about the animals' feelings and push that aside to fit societal norms. It's difficult to put into words what I am thinking right now, but I was quite moved by the film and am so glad I came to see it.
I'm a vegetarian who eats milk and cheese from my local area farms. This film has put an end to that -- no product from an animal can ever be humane. It was heartbreaking to watch but made me realize that people can change, and even though I'm just one person, I can make a difference. Awesome film. Thank you so much.
Beautiful, moving, transformative. I'm an on-again, off-again vegan for mostly health reasons. But man, this movie hit the heart and reaffirmed my conviction in vegan living, not just eating. Thank you!
Very moving and informative. Needs to be viewed by everyone.
So powerful, I'm at a loss for words. The images of animals in trucks looking out reminded me of concentration camps and the trains that brought people there.
It opened my mind to this subject.
Being an animal lover, it brought my attention to the cruelty. I guess I never thought about what is done to get animal food. The film is enlightening. It makes you think about changing your way of living and eating.
A life-changing experience. I already don't eat red meat or pork, but I'm going vegetarian now... thanks for the eye-opening experience!
It's easier not to care. It takes so much energy and effort and emotion to actually open up and to care. But it is so worth it. My awareness of this is now so acute. For this, I truly thank you.
Unbelievable documentary! I was moved throughout the entire thing... my hope is to have every person I know watch your film -- how can they not be touched? Thank you!

Your Support =
More Lives Touched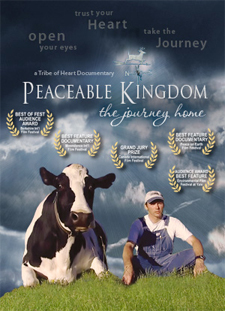 Urgent Need for Funding
There's never been a more exciting time to be involved in our work at Tribe of Heart. We have a film that is proven to transform perceptions about animals -- and even change the course of lives -- whenever and wherever it is shown. We have an educational program that is being embraced by people from all ages, backgrounds and walks of life.
With sufficient community support, we are now positioned to make a significant difference on a truly large scale!
Getting to this point has taken all the time and resources we have. Indeed, we are often so occupied with the work in front of us that we do not send out regular appeals for support.
But now, Tribe of Heart has an urgent need for funding. Your contributions are what keep the lights on, our cameras and computer equipment functioning properly, our creative team producing groundbreaking resources, and our outreach efforts reaching ever more activists and educators worldwide.
Community support -- given as funding, volunteer time, and professional services -- is the life force behind everything we do. It is also key to our making the most of the amazing opportunities now opening up.
Your help enables us to offer free public screenings of our films in a non-commercial atmosphere -- a rarity in today's world. It also keeps us independent of corporate influence, allowing us to advocate for justice and long-term change, as well as to speak out about the meat industry's efforts to co-opt the animal advocacy movement.
A lack of funding will never stop us from doing our work, but it can really slow us down. If you can help us now, we can maintain our momentum. We thank you from the bottom of our hearts for all you do to keep our programs alive. Working together, we can change the world!
Donations can be made online or mailed to:
Tribe of Heart, PO Box 149, Ithaca, NY 14851
---
Peaceable Kingdom: The Journey Home on DVD
Watch the trailer. DVD includes 78-minute film plus 90 minutes of bonus material. All content is available with subtitles in English (SDH), Spanish, French, and Portuguese.

Individual DVDs
$20 each
Peaceable Kingdom:
The Journey Home

---

Special Offer
Get both Tribe of Heart DVDs for $25
Peaceable Kingdom: The Journey Home and The Witness.


---
10-pack of DVDs $100 (half price)



For gift giving and sharing the film with people and groups in your community.


---
The Music from Peaceable Kingdom: The Journey Home
2 CD Set or 2 album MP3 Download - $20.00

"The Pirate of Eel Pie"
by Joy Askew. 10 tracks, including theme song "Poor Man's Greed"
"Glow in the Dark"
by Kevin Bartlett. 10 tracks, including theme song "Moon V. Moon"
Theme Songs:
"Moon V. Moon" and "Poor Man's Greed"
2 Song MP3 Download - $3.00
---
Help publicize this update
It's easy! Use the share button at the top of this page.

You can also help by "Liking" our new Facebook page for Peaceable Kingdom: The Journey Home, and sharing with your friends.