About the film...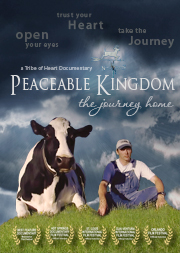 Director: Jenny Stein
Producer: James LaVeck
Associate Producers: Eric Huang, Kevin Smith
Featuring: Harold Brown, Howard Lyman,
Willow Jeane Lyman, Cayce Mell, Jason Tracy,
Cheri Ezell-Vandersluis and Jim Vandersluis
Musical score: Kevin Bartlett, Joy Askew
Watch video highlights from the world premiere screening.

Peaceable Kingdom: The Journey Home is a new documentary by the award-winning filmmakers of The Witness. A story of transformation and healing, this groundbreaking new film explores the awakening conscience of several people who grew up in traditional farming culture and who have now come to question the basic premises of their inherited way of life.
Presented through a tapestry of memories, music, and riveting accounts of life-altering moments, the film provides insight into the farmers' sometimes amazing connections with the animals under their care, while also making clear the complex web of social, psychological and economic forces that have led them to their dilemma.
Interwoven with the farmers' stories is the dramatic animal rescue work of a newly-trained humane police officer whose sense of justice puts her at odds with the law she is charged to uphold.
With strikingly honest interviews and rare footage demonstrating the emotional lives and intense family bonds of animals most often viewed as living commodities, Peaceable Kingdom: The Journey Home shatters stereotypical notions of farmers, farm life, and perhaps most surprisingly, farm animals themselves.
Viewer comments...
"Phenomenal film. Life-changing."
"I felt 'whole' after watching the film. It makes connections that I don't encounter in everyday life. It made me feel larger than myself, like I am a part of something bigger."
"Moving and honest."
"Beautiful. Courageous. It has raised my awareness to a whole new level."
"Incredible, amazing, and touching beyond belief."
"This is by far the best film on our modern agricultural system, and an alternative view, that I have ever seen."
"It opened my eyes and made me think.
"We are truly all connected, and this documentary shows this better than anything else out there."
"Very clarifying, morally and ethically."
"Our world needs this message -- it was heartfelt, tragic, hopeful and inspiring. I'm overwhelmed and grateful."
"I wish everyone could see this film."
"This film reminds me to live with heartfelt connections to animals, people and the earth."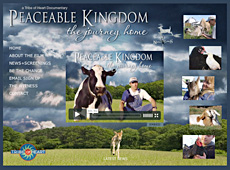 Visit the film's official web site
Watch the online trailer
Special guests...
Filmmaker James LaVeck

The work of documentary producer James LaVeck and his directing partner, Jenny Stein, has been recognized by film festival juries and audience members for its uncompromising yet compassionate portrayal of the interplay between what is most troubling in human society with what is most inspiring in human nature. James and Jenny are co-founders of the Ithaca, New York-based non-profit documentary production organization Tribe of Heart.
For the last ten years, Tribe of Heart films have appeared in 72 festivals around the world and won 15 awards, including 3 for Best of Festival and 11 for Best Documentary. Their work has appeared on PBS, LinkTV, FreeSpeech TV, and the United Kingdom's Community Channel.
In addition to his work as a producer, James lectures and publishes on the topics of critical thinking, advocacy, and the essential role of grassroots activism and independent media in maintaining a healthy democracy.
Associate Producer Kevin Smith
With two decades of experience representing commercial directors, Kevin Smith is himself a creative visionary. He was actively involved in shaping the story structure of Peaceable Kingdom: The Journey Home, and is currently developing opportunities to expand the audience and financial support for Tribe of Heart films.
About the festival...

The Ojai-Ventura International Film Festival is accredited by the British Academy of Film and Television Arts (BAFTA). Many of the films it has screened have gone on to receive widespread distribution, recognition and awards, including Academy Awards. The festival's advisory board includes Ellen DeGeneres, Colin Farrell, Matthew Perry, Malcolm McDowell and Diane Ladd.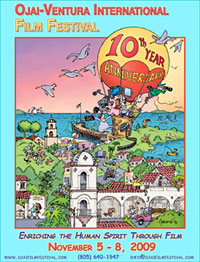 Spread the word...
Please share this evite with your friends in Southern California! You can use the handy send-to-a-friend button below, or the share button at the top of this evite. We also have a special invitation designed specifically to be sent to your Facebook friends.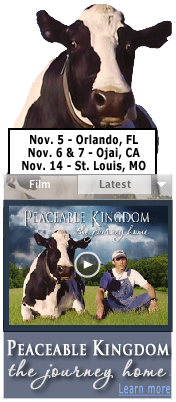 Also, please help us publicize this and other upcoming screenings of Peaceable Kingdom: The Journey Home by adding a widget like the one pictured above to your web site or social networking page(s). Choose from widget options here. All widgets will automatically update with the latest news and events. It's never been easier to help us get the word out!

---
For instant news updates and breaking information about Peaceable Kingdom: The Journey Home, follow Tribe of Heart on Facebook and Twitter: