Dear friends,
Think about what it means each time just one person has that "aha" moment, when she or he comes to understand that using others, however "normal" it may seem, is simply wrong, and that we can choose a better path. Think about how many lives are touched in turn by just one such changed person...
For nearly a decade, The Witness has been bringing that "aha" moment to people of all ages and backgrounds, its timeless message of justice and compassion losing none of its impact over the years.

One of the most common responses we receive from people who have just seen The Witness is, "I wish everyone could see this film."
Today, that wish is closer to a reality with the launch of Tribe of Heart's new online Screening Room, which currently offers The Witness for free online viewing in both English (closed captions available) and Spanish (both subtitled and dubbed). Ten additional languages will be released in the coming months.
If you haven't seen The Witness before, or if it has been a while since you last viewed it, please visit Tribe of Heart's new Screening Room, watch the film and be inspired by this story of one man's remarkable change of heart. Then explore the What You Can Do section of the web site, where viewers of the film can learn more and take immediate action with easy-to-use, state-of-the-art tools for inviting others to view the film and for spreading the word about the availability of this powerful new resource.

The Screening Room is designed to remove barriers of language, cost, convenience and access, all of which slow down the changes our planet so desperately needs. It was also designed to present this life-changing film in a context that multiplies the educational impact and helps launch visitors on a journey of exploration and service.

Every movement toward justice, whether individual or global in scale, starts with a single step, a decision to act on behalf of those who are more vulnerable than ourselves. Eddie made that decision in The Witness, and so can all of us.
We filmed The Witness during the holiday season in Manhattan, so it feels fitting to have the first phase of this international project completed in time to offer it as our holiday gift to all of you. We welcome your feedback -- it has always informed our work and inspired us to create the best possible tools for transformative change.
Thank you for all you do. Have a happy, healthy holiday!
Warm wishes,
James LaVeck and Jenny Stein
Co-Founders, Tribe of Heart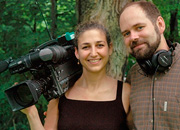 ---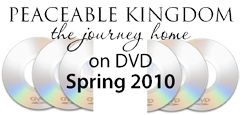 Coming soon: In the next couple weeks, we will be sending you an update about Peaceable Kingdom: The Journey Home, including film festival highlights and details of the DVD release, which we are planning for Spring, 2010.
Thanks to all of you for your patience in waiting for the DVD. We know it's been hard for some of you! Gathering written and verbal feedback from festival audiences around the country has greatly enhanced our understanding of how people are perceiving the film, and what refinements to make in order to be sure the viewing experience is as positive and effective as it can be for the widest range of viewers. We can say with certainty that this process has improved the project, and we now look forward to bringing all the remaining details together for the DVD to be launched in the Spring.
Very special thanks...

Frequent visitors to Tribe of Heart's web sites over the last two years will have noticed a dramatic transformation. Site by site, page by page, Tribe of Heart team member Eric Huang, who is also an associate producer of Peaceable Kingdom: The Journey Home, has used his artistry and professional design skills to create a world class online presence for our projects. The online Screening Room is Eric's latest design masterpiece, offering an elegant, understated look that is a perfect match for The Witness.

As the online Screening Room launches, Spanish-speaking visitors will be benefiting from the talent and hard work of Italia Millan, Tribe of Heart's new International Coordinator, who personally translated the Screening Room interface into Spanish as well as the HumaneMyth slide shows that accompany El Testigo (The Witness) on the online Screening Room. Italia has also been coordinating the efforts of our team of dedicated volunteer translators to bring the Screening Room experience into ten additional languages to be released in the coming months.
We would also like to thank our team of evaluators and testers, who helped correct errors and suggested many improvements during the final preparations for the launch of the Screening Room initiative: Kevin Smith (associate producer of Peaceable Kingdom: The Journey Home), Pam Page, Jeff Boghosian, and Louie Gedo.
Finally, we would like to thank Eddie Lama for entrusting us with his amazing story and for all the many ways he has helped Tribe of Heart and inspired our efforts over the years.

Start changing hearts and minds right now!
Making a life-changing difference is within the power of each of us, but only if we take that first step. We encourage you to watch The Witness, share it with your friends, family and colleagues, and tell as many people as you can about the Screening Room and the transformative experience it offers. Once you get started, you may find that you are amazed at what you can accomplish!
1. Send an invitation for a free online viewing to the people in your life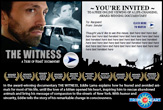 Sharing The Witness person-to-person is a direct and often very gratifying way to inspire positive change. If enough of us share this film's message, together we can create a wave of change that will travel around the world! Our invitation system makes it really easy to get started. Try it! English or Spanish
2. Use your social networking tools to inform people about this new online resource and urge them to watch The Witness

Whether you have a blog, Facebook page, MySpace page, Twitter account, or any other kind of online social networking capability, you can make a difference by telling people about The Witness and directing them to the Screening Room web site. You can access these and many other options by clicking here:
3. Help publicize The Witness with a TribeWidget

Our TribeWidget allows you to put an interactive banner for The Witness on your web site, blog, or Facebook page. It includes a preview, some basic information about the film, and news items that get automatically updated once you have the widget installed on your site.
TribeWidgets are fun and informative, and they allow countless people to learn about The Witness and its message of compassion. Many people report being deeply moved just from watching the preview, and you will also help many more people discover this online screening room, enabling them to watch The Witness in its entirety, and then go on to share the film with others.
4. Buy a DVD of The Witness to share with others

Sometimes it can be easier to get people to watch a film if you personally hand it to them, or if you offer to watch it with them. For those situations, we encourage you to buy a DVD and begin passing it around to your family members, friends, co-workers, students, teachers, journalists, spiritual leaders, librarians, elected officials, or anyone else you think might benefit from watching it.
5. Make an urgently needed donation so Tribe of Heart can sustain its programs and expand the reach of its films
Every year, record numbers of individuals are being exploited and senselessly killed. At the same time, a vast, untapped reservoir of potential exists in the hearts and minds of people all over the world, from every culture and background — global citizens who are motivated to become part of creating a more positive future for us all, yet lack access to effective tools for education and outreach. Meeting this crucial and often unmet need is why Tribe of Heart was founded ten years ago, and it is what has motivated our work ever since.
Peaceable Kingdom: The Journey Home, soon to be out on DVD, is already generating a level of audience response that surpasses the substantial impact achieved by our previous work. With our new online Screening Room project, we have the cutting-edge technologies in place to make our films easily accessible in countries and cultures all across the world. We have never been more certain that the work we are doing is needed, and this has inspired us to be direct in asking for your help.
Adequate financial support is now the catalyst needed to unlock the full potential of these two ambitious projects. More specifically, your support in 2010 will enable us to:
- Unleash the potential of Peaceable Kingdom: The Journey Home by authoring and distributing a multi-lingual version of the film on DVD.
- Launch a grassroots screening program to expand the reach of this life-changing film, to cultivate community dialogue around the important issues it raises, to empower local activists and educators, and to seed the DVD in communities wherever it is shown.
- Put in place the technology, expertise and support needed to keep up with the rapidly expanding audience for our films and growing international demand for our educational resources.
- Expand the translation of our films, programs and outreach tools into ever more languages, advancing our long-term goal of making these valuable resources understandable and accessible to the
majority of humans on the planet.
Thank you for your support!
Donations can be made online or mailed to
Tribe of Heart, PO Box 149, Ithaca, NY 14851