Tribe of Heart is excited to announce the DVD Release of
Peaceable Kingdom: The Journey Home

We invite you to join a growing community of individuals around the world using these new resources to foster peaceful, positive change
1. The DVD
An award-winning, life-changing film that is awakening and inspiring people of all ages, backgrounds, and walks of life.

Watch the trailer

Accepting orders now!
DVD ships on July 9, 2012

DVD includes 78-minute film plus 90 minutes of bonus material. All content is available with subtitles in English (SDH), Spanish, French, and Portuguese.

---

Special Offer
Get both Tribe of Heart DVDs for $25

Peaceable Kingdom: The Journey Home and The Witness.



---

2. DVD Bonus Features
An effective tool kit for presenting the animals' cause, not just as a call for compassion, but also as a justice movement interconnected with others, past and present.


LOVE over FEAR
27-min mini-doc about the making of Peaceable Kingdom: The Journey Home
Video Excerpt (2.5 min)




25-min presentation about how American novelist and anti-slavery activist Harriet Beecher Stowe inspired the filmmakers


Video Excerpt (3.5 min)



16-min mini-doc expanding on an animal rescue story featured in the film


Introduction and
Post-film Q&A 1-min intro and 14-min follow-up with filmmakers answering common questions raised by audience
Video Excerpt(1.5 min)

3. Peaceable Journey Website
Comprehensive, step-by-step online action guides for empowering individual change, community outreach, and social transformation.



Coming Soon!

Premiere screenings in major cities, including Baltimore, Boston, Detroit, Los Angeles, Minneapolis, New York, Phoenix, Pittsburgh, San Francisco, Toronto and more. Details TBA. If you want to help with these or other large screenings, contact us.

Please help us publicize this announcement.

It's easy! Use the share button at the top of this page.

You can also help by "Liking" our new Facebook page for Peaceable Kingdom: The Journey Home, and sharing with your friends.
Special thanks to the following Tribe of Heart team members
for their inspired help with this release!
Eric Huang, Kevin Smith, Trevor DeSane, John Paul, Alice Baker, Pam Page
Leslie Armstrong, Susan Clay, Italia Millán, D.M, Kate Sharadin, Monica Towle
Simone de Lima, Jaclyn & Pierre Gidel, Adriana Cristina Hernández, Nicolas Serres-Cousiné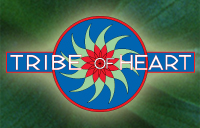 Tribe of Heart is a 501(c)(3) charitable organization that produces award-winning, life-changing films about the journey of awakening conscience and the ethics of the human-animal relationship. As a small organization with a big vision, we depend on the power of our community to make our programs come to life. Thank you for the many ways you help Tribe of Heart encourage positive, peaceful transformation.
Donations can be made online or mailed to Tribe of Heart, POB 149, Ithaca, NY 14851