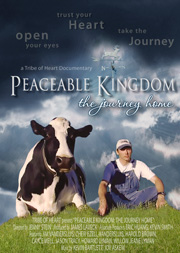 Film Screenings
Friday, Oct. 23 at 3:25 PM
Sunday, Oct. 25 at 10:05 AM
Tickets are $5 and can be purchased online starting Oct. 15
Both screenings will be followed
by Q&A with filmmakers
Jenny Stein and James LaVeck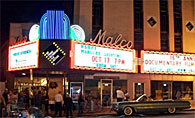 Hot Springs Documentary Film Festival At the historic Malco Theatre
819 Central Ave., Hot Springs, AR 71901
Directions
---
Environmental Panel
Saturday, Oct. 24 at 10:30 AM
FREE and open to the public
Spencer's Corner
801 Central Ave., Suite 33, Hot Springs

featuring James LaVeck, producer of Peaceable Kingdom: The Journey Home

In an age of mass consumption, environmental issues are becoming a hot and heated topic. What risks are involved for filmmakers that challenge large corporations and industries, and what possible benefit do these films serve for our culture at large?
This panel will also feature Robert Kenner of Food, Inc., and other filmmakers at the festival.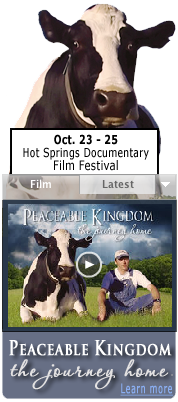 You can help!
Please help us publicize this premiere and other upcoming screenings of Peaceable Kingdom: The Journey Home by adding a widget like the one pictured above to your web site or social networking page(s). Choose from widget options here. All widgets will automatically update with the latest news and events. It's never been easier to help us get the word out!

Also, please share this evite with your friends!
---
For instant news updates and breaking information about Peaceable Kingdom: The Journey Home, follow Tribe of Heart on Facebook and Twitter:
About the film...

Peaceable Kingdom: The Journey Home
Director: Jenny Stein
Producer: James LaVeck
Associate Producers: Eric Huang, Kevin Smith
Featuring: Harold Brown, Howard Lyman,
Willow Jeane Lyman, Cayce Mell, Jason Tracy,
Cheri Ezell-Vandersluis and Jim Vandersluis
Musical score: Kevin Bartlett, Joy Askew

Watch video highlights from the world premiere screening.
Peaceable Kingdom: The Journey Home is a new documentary by the award-winning filmmakers of The Witness. A story of transformation and healing, this groundbreaking new film explores the awakening conscience of several people who grew up in traditional farming culture and who have now come to question the basic premises of their inherited way of life.
Presented through a tapestry of memories, music, and riveting accounts of life-altering moments, the film provides insight into the farmers' sometimes amazing connections with the animals under their care, while also making clear the complex web of social, psychological and economic forces that have led them to their dilemma.
Interwoven with the farmers' stories is the dramatic animal rescue work of a newly-trained humane police officer whose sense of justice puts her at odds with the law she is charged to uphold.
With strikingly honest interviews and rare footage demonstrating the emotional lives and intense family bonds of animals most often viewed as living commodities, Peaceable Kingdom: The Journey Home shatters stereotypical notions of farmers, farm life, and perhaps most surprisingly, farm animals themselves.
"Phenomenal film.
Life-changing."
Viewer Comment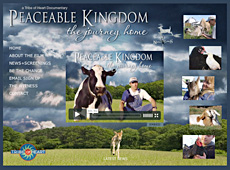 Visit the film's official web site
Watch the online trailer

"I felt 'whole' after watching the film. It makes connections that I don't encounter in everyday life. It made me feel larger than myself, like I am a part of something bigger."
Viewer Comment
---
About the festival...
The Hot Springs Documentary Film Festival is one of the first and the oldest documentary film festivals in the world (second only to Amsterdam). It is recognized by the International Documentary Association (IDA) and the Academy of Motion Picture Arts and Sciences (AMPAS) as one of only seven national Academy Award qualifying venues. The festival's screening committeeviews nearly 1,000 films submitted from Afghanistan to Zimbabwe, and selects 100 to be viewed each year.
The festival is presented by the Hot Springs Documentary Film Institute, which is the only film institute in the United States dedicated solely to the documentary film genre. Each year with the help of over 600 dedicated volunteers, board, and staff members, the festival attracts tens of thousands of visitors for this multicultural and intergenerational event.
Emphasis is on documentary film as an art form as well as a means to promote critical thinking on real life issues. Through symposia, forums, discussion groups, and teaching, HSDFI brings cultural and social knowledge to all ages from the gifted work of film professionals.
Past HSDFF guests include Ken Burns, Geraldine Chaplin, Tippi Hedren, Arthur Hiller, James Earl Jones, Albert Maysles, Brenda Vaccaro, Jack Valenti, and many others.