We are thrilled to announce that Peaceable Kingdom: The Journey Home recently won the Audience Award for Best Feature at the Environmental Film Festival at Yale! The people of New Haven gave us a warm reception with a nearly full house for the screening and a lengthy Q&A following the film.
Our experience at Yale was remarkable in many ways. According to the festival organizers, Peaceable Kingdom: The Journey Home attracted one of the largest audiences of this year's event. It also received one of the festival's only three awards, the Audience Award, which is a great honor by any measure, but for an uncompromising film about the ethics of the human-animal relationship screening at an environmental film festival, it was surely a breakthrough.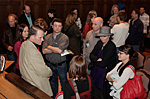 Harold Brown spends time with audience after Q&A
Nearly the entire audience stayed for what turned into an extended Q&A session, and even after the formal Q&A ended, a couple dozen people stayed on to talk for another hour or so, until the conversations had to be brought to a close as it was time to shut the festival down for the night. It was heartening to see such intense interest in the film and its subject matter.
Peaceable Kingdom: The Journey Home seemed to touch something deep for many audience members at this festival. Their written comments hinted at new connections being made by the film. One person wrote:

Thank you. I work with individuals with disabilities and strive to interact at all times with respect for their individual humanity. However I don't extend that to the entire animal kingdom. This film finally challenged that disconnect. I've moved to a new consciousness again. Again, thank you.
We are very excited by this response, which seems to indicate the film is speaking to people who have developed social justice values in one area, encouraging them to extend those same values to their relationship with other animals.
Another viewer wrote:

I am a biologist and the thoughts of the farmers expressed in this film reflect some of the experiences I have had with animal research. These are things that I am still actively thinking about and discussing with people. Your film made me realize that these human reactions to cruelty and death are just as "real" as scientific truths.

These few words offer a snapshot of a person experiencing a profound moral awakening, a scientist who has gained the courage to give his intuitions and emotional reactions the same weight he had formerly given to scientific truths. This kind of introspective, heartfelt response is what we hoped for and dreamed of when making this film.
After spending the last six months on the road with Peaceable Kingdom: The Journey Home and interacting with audiences across North America, we are seeing that this film's potential to change lives is greater than any project we've ever been a part of. In between events, we have been working diligently to put in place the educational resources and other support systems needed to maximize the film's potential once it is released on DVD. As we do this, we are feeling a deep sense of connection with you, our community. Without your encouragement, support, patience, and participation over the years, it would not have been possible to create a film that makes these multi-layered social justice issues accessible, understandable, and inspirational for such a wide range of people. And with your continuing support, we have a chance to offer viewers of the film the resources they need to transform a moment of awakening into a lifelong journey of conscience. Transformation of our society is possible through the peaceful transformation of individual lives. It is achieved by telling the truth of injustice, but also by sharing the equally compelling truth of our beautiful human capacity to respond to injustice with creativity and compassion.
Thank you for all you do to make the world a kinder place for all beings.

Warm wishes,
James LaVeck and Jenny Stein
Co-founders of Tribe of Heart
Tribe of Heart needs your support now, more than ever, to keep the momentum building and to develop the resources and support needed to launch Peaceable Kingdom: The Journey Home on DVD. Please help us bring this powerful tool to people who are eager to put it to use in communities around the world!
Donations can be made online or mailed to:
Tribe of Heart, PO Box 149, Ithaca, NY 14851
---

Russian is Coming!
At Tribe of Heart, we have a vision of making our films understandable and accessible to the majority of people in the world. Last December, we reached a milestone toward accomplishing this goal when we launched our Online Screening Room, which currently enables people to watch The Witness online for free in English, Closed-Captions, and Spanish, with 10 additional languages to come.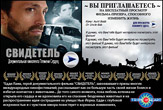 For many months, activist and volunteer translator Lidia Belknap has been working with the Tribe of Heart team to create a seamless experience for Russian-speaking viewers. Soon, visitors to our Online Screening Room will not only be able to watch the Russian-subtitled version of The Witness (beautifully translated by volunteer Tanya Gelfand), but also have access to tools and resources in their native language for enriching their viewing experience and sharing the film with others.
Together, Tanya and Lidia have performed an incredible feat of outreach, making the inspirational message of The Witness available to hundreds of millions of people. Since Russia is amongst the largest fur producers in the world, it's particularly important that The Witness be made accessible to the Russian people.
More details coming soon!