Start Here

Within a few months of releasing our first film, The Witness, we discovered that nearly half of the copies sold were being purchased by people who wanted to give them to others. Sometimes the intended recipients were friends, family, and colleagues. Other times, they were educators, opinion makers, and legislators. It was inspiring to realize that so many people wanted to share these films in the same spirit in which they were created.

In response, we created our Gift of Compassion Program, offering anyone the opportunity to purchase 10 or more copies of our films at a discount of 50%. To receive this discount, a simple pledge must be signed agreeing that the copies purchased in this manner are only to be used as gifts or donations, or if they are intended for re-sale, that they not be re-sold for less than our list price of $20.

More details and order information can be found here.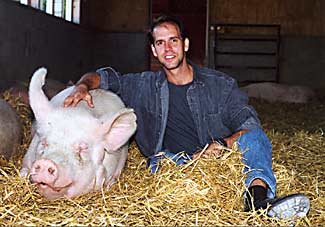 Making Change Happen,
One Person at a Time
John Calabria (pictured above) helped come up with the idea for our Gift of Compassion program, and was one of its original participants. Here is what he did with some of the films:
"My first gift of compassion was to the Maynard Public Library. It has already been checked out a few times, and I'm working on getting a copy placed at the Concord Library.
"Video #2 has found a good home at Kripalu [a yoga center] in the Berkshires.
"#3 was given to an environmental professor at RPI in Albany, NY. He will watch it, and then will give it to one of the Ethics/Philosophy professors.
"Copy #4 will go to a student animal group at a Quaker college (pop. 2000) in the middle of Indiana. I met a woman at a recent screening whose daughter goes there, and got her contact info.
"I also sent a copy of the LA Times review to Dateline NBC, asking them to do a story."
Essentials

Step-by-Step Guide, including donation ideas Person-to-person sharing is one of the most effective forms of working for change, and one of the most rewarding. Getting started is easy. ...more
---

Maximizing educational potential For over a decade, teachers and professors have been using Tribe of Heart films in their classrooms. These educators working in a wide range of disciplines and contexts have helped us understand some of the characteristics that they believe make The Witness and Peaceable Kingdom: The Journey Home effective teaching tools. ...more
---

A Breakthrough Vehicle for Social Change
Peaceable Kingdom: The Journey Home has a demonstrated ability to engage and inform people from all cultures and walks of life. While the film delves into a sensitive issue -- the ethical conflicts inherent in raising animals for food -- it does so in a non-controversial way, largely through the stories of people who were raised on multi-generational family farms....more
---

Work with your local library What better venue than a public library to reach a large cross-section of America with a life changing film?...more
---
Inspiration

Visionaries of the past proved that our society can be awakened and transformed through the gentle power of storytelling — that the accounts of ordinary people struggling for justice and truth can reveal hidden suffering and cruelty in a way that most people can understand. Learn how two remarkable books, and their authors and supporters, helped change the course of history...more
---

Seeds of Compassion Planted in the State House

An early participant in the Gift of Compassion program was an attorney in the Midwest who had the specific intent of educating his state legislators about animal issues. He shared with us a letter from a state representative who had this to say:

"After viewing The Witness, I have to agree with you that it is an outstanding documentary that was very well done. I have to admit that, while I was well aware of and informed about abuse and torture of animals, I was not so informed about the way fur-bearing animals are raised in so-called factory farms by the commercial fur industry. I was absolutely shocked at how this industry operates. I don't think the public is aware of the operations of this industry...

"Truly the unique way in which the message and images were conveyed in this documentary make the seriousness of this issue more appreciated and understood by those who view it. I am confident many more legislators will view it, and I will encourage them to do so...

"Thank you again for forwarding the video and materials to me. I found them to be very informative. Your encouragement, in fact, raised my consciousness on this issue."





 




"