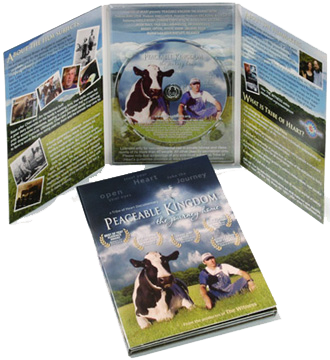 Watch the trailer
DVD includes 78-minute film plus 90 minutes of bonus material. All content is available with subtitles in English (SDH), Spanish, French, and Portuguese.
---
Individual DVDs $20 each

Peaceable Kingdom: The Journey Home
FREE First Class shipping worldwide!
---
Special Offer Both Tribe of Heart DVDs for $25

Peaceable Kingdom: The Journey Home and The Witness
FREE First Class shipping worldwide!
---
10-pack of DVDs

$100 (half price)

For gift giving and sharing the film with people and groups in your community
FREE Priority Mail shipping to the US, and FREE First Class International shipping to all other countries.
---
The Music from
Peaceable Kingdom: The Journey Home
2 CD Set or 2 album MP3 Download - $20.00
FREE First Class shipping worldwide!

"The Pirate of Eel Pie"
by Joy Askew. 10 tracks, including theme song "Poor Man's Greed"
"Glow in the Dark"
by Kevin Bartlett. 10 tracks, including theme song "Moon V. Moon"
Theme Songs:
"Moon V. Moon" and "Poor Man's Greed"
2 Song MP3 Download - $3.00
---
Your Support = Lives Touched
Your help has enabled us to complete this film, release it on DVD, and offer free public viewings in a non-commercial atmosphere. At screening after screening, written comments from audience members show consistent results: hearts touched, minds opened, and lives changed. Through the power of community, we have created a truly groundbreaking tool for change!
Now, with additional support, we can work toward our goal of making our entire body of work available online, and in multiple languages. Help us awaken and empower young people and those in other countries, exponentially increasing the reach and impact of this life-changing message. There's never been a more exciting time to be involved with Tribe of Heart!
Please consider making a special end-of-year gift to Tribe of Heart, so that our important work together can continue and expand in 2013.
Thank you, and have a great holiday!

Your donation is fully tax-deductible in the U.S.
and can be made online or mailed to:
Tribe of Heart, PO Box 149, Ithaca, NY 14851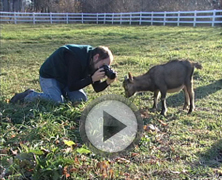 Watch LOVE over FEAR
A behind-the-scenes look at the making of Peaceable Kingdom: The Journey Home
Subtitle Options: English-SDH
Español | Français | Português
---
Viewer Comments
Since the DVD was first released in July, many individuals have organized public screenings in their communities or hosted small viewings in their homes. Here is a small sample of the written feedback they received:
I learned that farm animals, when treated well, can be just as fun, adorable, friendly, and loveable as pet animals... the movie does a great job at making viewers realize that all animals are individual souls, at such a fundamental heart level that is extremely powerful and transformative. (San Gabriel, CA)

I was moved over and over by the beauty of the animals, their connections to one another and the humans. (West Palm Beach, FL)
This film is not biased, it shows both sides of the story. I am involved in FFA [Future Farmers of America] at my high school and care for animals as well, but also am enrolled in an ag processing class (slaughterhouse), and now I can't go back to that, and I would like to share that with others. (Phoenix, AZ)
Seeing the intelligence and emotional IQ of animals is an eye and heart opener. (Asheville, NC)
I feel that this movie is sensitive to animal and humankind -- it is very respectful, thoughtfully done -- like the children in the movie. I think children know what's right and wrong, and if we can remember, see compassion in action, we can open our eyes and make life better for all. (Baltimore, MD)
I loved the photography -- the many close-ups of the faces (esp. eyes and snouts) of cows, pigs, chickens, goats... I'm glad I saw the movie. At the moment I could not eat any meat. (Rush, NY)
The biggest struggle I battle is that I am alone in this journey. My family, my significant other, my friends cannot grasp the idea of a meatless world, much less are interested in trying. I came to the viewing alone, and am 150% more comforted that we are on the edge of change. This is how every major change in our society has started. You have given me the confidence to just be comfortable in my beliefs... thank you for stepping up. (Wichita, KS)
Many thanks to Leslie Armstrong, Carol Barnett, Jamie Cohen, Kris & Craig Haley, Paul Henderick, Mary Martin, Dianne Waltner, and Charles Wussow for sharing the film and gathering the feedback above. Learn how you can organize your own home viewing or community screening on the Peaceable Journey web site.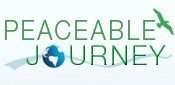 ---
You can help us publicize this update by using the share button at the top of this page.

You can also help by "Liking" our new Facebook page for Peaceable Kingdom: The Journey Home, and sharing with your friends.