In the lead up to this weekend's double feature broadcast, Cathy Unruh interviewed filmmakers and Tribe of Heart co-founders James LaVeck and Jenny Stein on her half-hour show, "Up Close with Cathy Unruh." You can watch the full interview online.
Cathy also highlighted Peaceable Kingdom: The Journey Home in her blog article, "Peace in the Pasture."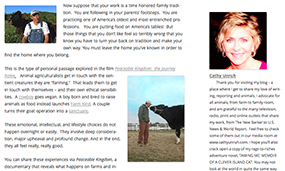 ---
Help publicize this broadcast
It's easy! You can use the share button at the top of this page or paste this page's link on your social media sites: http://www.tribeofheart.org/hb/122013.htm
We also encourage you to help raise awareness of the important issues explored in Tribe of Heart's films by sharing the TV interview and Cathy's blog article, linked to above.
---
Help get Peaceable Kingdom aired on your PBS station

With a broadcast in Detroit last August (WTVS) and two broadcasts on Tampa's WEDU happening this month, it's a great time to reach out to your regional PBS station and ask them to air Peaceable Kingdom: The Journey Home. With the help of the Tribe of Heart community, our first film, The Witness, aired on many PBS stations nationwide. These opportunities almost always began with a local viewer bringing a film to the attention of the station's programming staff. If you'd like advice on how to go about doing so, please contact Tribe of Heart core team member, Kevin Smith.
---
Can't watch the broadcast?
You can still see the films

You can now rent ($2.99) or buy ($14.99)
Peaceable Kingdom: The Journey Home on iTunes.
---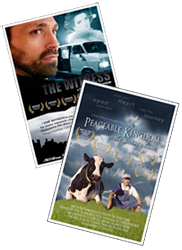 Dear friends,
Today, we are thrilled to announce the double feature presentation of Peaceable Kingdom: The Journey Home and The Witness on WEDU, Tampa's PBS affiliate reaching West Central Florida. The double feature will air during primetime this coming Sunday night (details above), with an encore broadcast of Peaceable Kingdom happening the following Sunday night at midnight.
This will be the 2nd broadcast opportunity for Peaceable Kingdom, and the 13th for The Witness. This time around, along with offering the first ever double feature of our films on TV, WEDU also aired a half-hour interview with Jenny and me on "Up Close with Cathy Unruh," which debuted last night, and which you can now watch online. In an era dominated by soundbites, this opportunity to have an extended dialogue with a caring, knowledgeable and skilled interviewer was a rare gift. Cathy's immersion in animal ethics and interest in a broad range of social justice issues brought intense focus and depth to our discussion, as well as her accompanying blog post. We expect that these substantive offerings will be of equal interest to members of the general public and long term advocates alike.
So, please take the time to view our interview on "Up Close," read Cathy's blog, and if you are in the WEDU viewing area, to watch the broadcast and recommend it to friends and family in the region (WEDU+ channel info is listed at the top of this announcement). It would also be great for those of you in the West Central Florida region to let WEDU know, by email or web form, that you appreciate their airing both of these films.
Have a wonderful holiday season, and take inspiration from this and other signs that the public is ready for the message we have to share. Peace on Earth is about compassion, respect, and justice, not just for humans, but for all our fellow beings. Every heart that is touched and mind that is changed brings us closer to that goal.
James LaVeck
Tribe of Heart co-founder and filmmaker
---
Heartfelt Thanks
As a small organization with a vision of bringing a transformative message to a worldwide audience, we rely on the power of altruism to propel our work into the world. This takes a lot of faith and hard work. But one of the rewards it gives us is the inspiring opportunity to collaborate with people who are offering their best in service of a kinder and more just future for us all. In this case, we owe a special thanks to Cathy and her talented producer, Farah Britto. We are also grateful to Tampa-based activist-educators Isabelle Tassi and Marilyn Weaver for their roles in helping facilitate and support this opportunity.
As with the last broadcast on Detroit's WTVS, Peaceable Kingdom's associate producer Kevin Smith played a key role by working with WEDU's VP of Content, Jack Conley, and VP of Broadcasting, Frank Wolynsky, to get this broadcast event put together. We also want to thank the production crew at WEDU, who were professional and warm, making the role-reversal experience of being in front of the camera a very positive one for us.
---
Tribe of Heart
needs your support

We currently have an abundance of high-leverage opportunities for sharing our work in new languages and cultures, but we are limited by a shortfall of financial support. Please consider making a tax-deductible donation today, which will help us reach more people with the life-changing message of our current films, while also enabling us to commence work on new documentaries and educational projects that will inspire peaceful transformation in communities all over the world.

Donations can be made online
or mailed to Tribe of Heart,
PO Box 149, Ithaca, NY 14851
If you have specialized knowledge and expertise you'd like to offer in film distribution, fundraising, language translation, event planning, social media, or other areas that will help us propagate our films and educational projects, we'd love to hear from you. Please contact us.